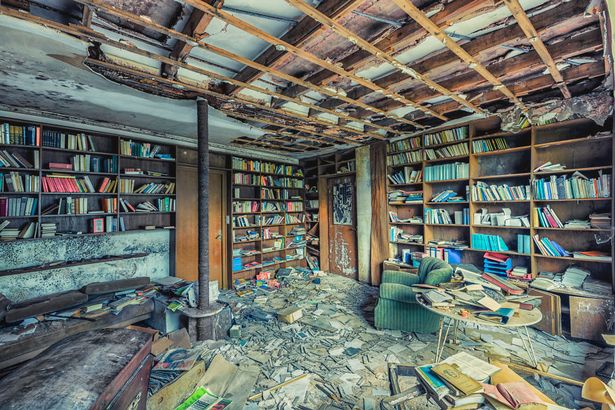 I didn't know how long I was supposed to wait. They told me to show up with my tools, and everybody would meet around nine. It was already ten thirty, and nobody. No calls. No service, which would explain the no calls. The address seemed like a normal address. But it was a lone building. Two story, grayish. Or maybe just dirty.

I decided to go inside. They told me it was a clean up job. Some equipment needed to be decommissioned before the demolition crew arrived. Something about OSHA or some crap. Personally, I think it's just government goofs coming up with extra reasons to make us have to pay for inspectors at every step of the process.

I'm not licensed, but my boss is. Which is why he told me to stay outside until they got there. If they inspectors showed up and he wasn't there, he'd get nailed with some bullshit fine. But I was tired of waiting. So I went inside. How hard could it be?

The first thing I noticed was there weren't any lights. There were windows, but they were so dirty that none of the light was coming through. I walked up and down the hallway, checking out all the rooms. At first I thought it was a school. Classrooms or something. I popped my head in one room, I think it was the third one down on the right.

Not a classroom. A bunch of chairs, and this really messed up chair in front. Kind of like a dentist's chair. Maybe some kind of old dental school? Who knows. I dusted it off, and sat in it. Not a dentists chair. Not set up to lean your head back. The headrest was facing forward.

I got out of the chair, looked at it. What the hell could it be? There was a desk to the right. Regular desk. Pulled it open, half expecting to find pens and pencils. Nothing. Except a piece of paper. Didn't look old or decayed. Fresh. Like somebody had just put it here.

I opened the paper. There were some symbols. Not Hieroglyphics. Not any kind of Chinese. Sort of Arabic. But not really. How the hell do I know? I don't know, I was only guessing. But not like anything I'd seen. Written in pencil. But no pencils in the desk. I put the paper back, maybe the owner was coming back. Maybe some other crew was doing work or something, and these were special instructions on how to dismantle this non-dental chair.

I checked out a few of the other rooms. Same thing. Weird chair in front. Desk. Except those desks didn't have the piece of paper. Maybe the non-dental chairs were different? I looked at the one in the room I was in. Studied it carefully. Went back to the original room. The one I went in first. Looked the same. Opened the drawer, as if the indecipherable piece of paper would have some kind of clue.

Only the paper was gone. What the hell? I opened up all of the drawers. Nothing. Wrong room? I backtracked to the front door. Checked every room on the first floor. All eight of them. All had the same identical non-dental chairs. All with the same desks. All without the paper. This was messed up. Did my boss show up while I was walking around? That must have been it.

I go back outside. Front door is locked. How did that happen? Wasn't locked when I came in. I look out through the dirty window, see a rusty chain around the door. Very fucking funny. Now let me out of here. I banged on the window, looked outside. No other cars.

Except there was an old woman in the driver's seat of my truck. Lady, get out of my truck! She smiles at me, starts the car, and drives off. So that's it. They waited for me to go inside, locked me in, and now they're stealing my truck. Then I realized there was no coverage. I run upstairs, there's got to be a way out. Window or something.

I sprint upstairs. Same rooms on the second floor. Non-dental chairs and desks without papers. Third floor, same thing. Fourth floor was different. Some kind of auditorium. Or large meeting room. A bunch of tables set up, and a big wooden podium up front. I go to the windows, look out on the street. Nothing. Nobody. No signal.

How did that old lady see me drive up? No cars are around. No houses are around. Only a bunch of vacant buildings. Was she in the building? Wait a goddamn minute. I checked my pockets. I still have my keys. How did she start my truck?

I ran back downstairs. Checked the front, still chained. Only now it's chained on the inside as well. That meant somebody was in here with me. Somebody was fucking with me. Had to be my guys. Today wasn't my birthday. Today wasn't April Fool's day. Today wasn't Friday the 13th. Why today? Why me? I've never played any practical jokes on anybody. They've never played any on me. It's not like those guys on YouTube who are always trying to out-prank each other.

I got back into the room on the first floor. Third room on the right. The one with the non-dental chair and the desk that had the note. Maybe the note. Now I'm starting to freak out. I don't think there's any running water. I open the desk. The paper is there.

Only now it's written in English. And it says "Thank you for participating in our experiment." What the fuck? I hear some laugher out in the hallway. That's it. My friends are messing with me.

I ran out into the hallway. Not my friends. A bunch of old ladies. Ladies that looked like one who stole my truck.

"What the hell is going on?" I demand. Suddenly their faces turn from old ladies into hideous images that don't even look like faces. Grayish reptile like skin. Only without eyes. Without mouths. Without noses. Just skin that keeps moving and slithering around on itself. They come at me. I back up.

Their arms, if you can call them arms, reach out and push me into the non-dental chair. Straps come up and hold my hands and arms. Suddenly there is a doctor, or some fuckhead that's dressed like a doctor standing next to me. He's speaking in some language I can't understand.

The classroom is filled. Children. Not children. Smaller versions of those old ladies that weren't really old ladies. I feel a strap go across my forehead. Not leather. Not metal. Something in between. Then these drills. Going into my eyes. But I can still see, and feel them at the same time. The pain is excruciating. I can hear the non-children "ooh" and "ahh." And the fuckhead non-human doctor chuckling.

And that's where I am right now. Intolerable pain. Begging for death. But still alive. Still conscious. They've peeled away my skin, and are pulling open my chest. I can feel the rib spreaders pulling my ribs. I can hear them crack. I can feel them crack. The pain increases. But still I do not pass out.

Please help me. Find me. Cut the chains or something. Get me out of here.
Download Healer - Free
A boomtown on the edge of economic liftoff. An evil lawyer with inescapably psychotic power. When Marcus Canfield, an underachieving bartender realizes his gift has been reawakened, only to have the girl of his dreams snatched away, he knows he must stop the horrific threat to both her and the entire United States before it's too late.